Primus AIR Blade Upgrade Kit - NEW Carbon Fibre Blades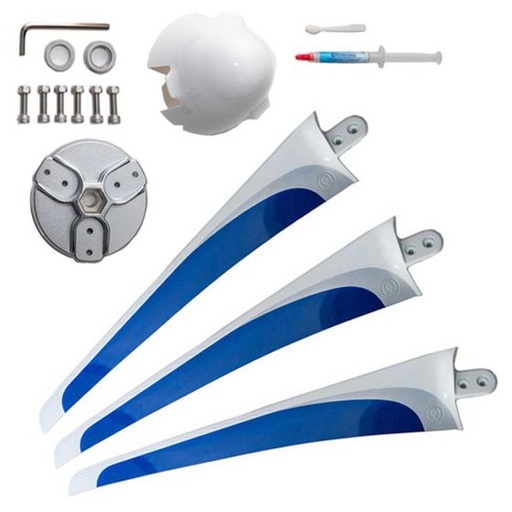 Primus AIR Blade Upgrade Kit - NEW Carbon Fibre Blades
AIR MAX Blade Upgrade Kit

The new AIR MAX blades were launched in 2022. These new blades bring increased efficiency and enhanced noise reduction.

The upgrade kit consists of everything required to convert your existing AIR wind turbine to the latest AIR MAX carbon blades.

This upgrade kit can be used on the following AIR turbines:

AIR X
AIR SILENT X
AIR BREEZE
AIR 30
AIR 40
Renowned in the marine industry for being among the quietest blades ever developed for a small wind turbine, this blade set can now be used with any AIR wind turbine, using the appropriate upgrade kit.


This Kit Includes:

AIR MAX Carbon Fibre Wind Turbine Blades (set of 3)
AIR MAX Blade Bolt Kit
AIR MAX MARINE Anodiosed Hub
AIR MAX MARINE White Nose Cone

Rotor Blade Features:

High-tech carbon fibre rotor blades.
Made of 100% Carbon-Fibre material – CFRP.
Hand laminated. By using High–Tensile carbon fibers in hand laminated application with epoxy-resin the blades get extremely resistant
UV-resistant.
Wind channel optimized.
Ultra-low noise emissions.
Balanced for low vibrations.
Outstanding strength-to-weight ratio.

Brand

:

AIR by Primus Windpower
SKU

:

2-ARBR-103